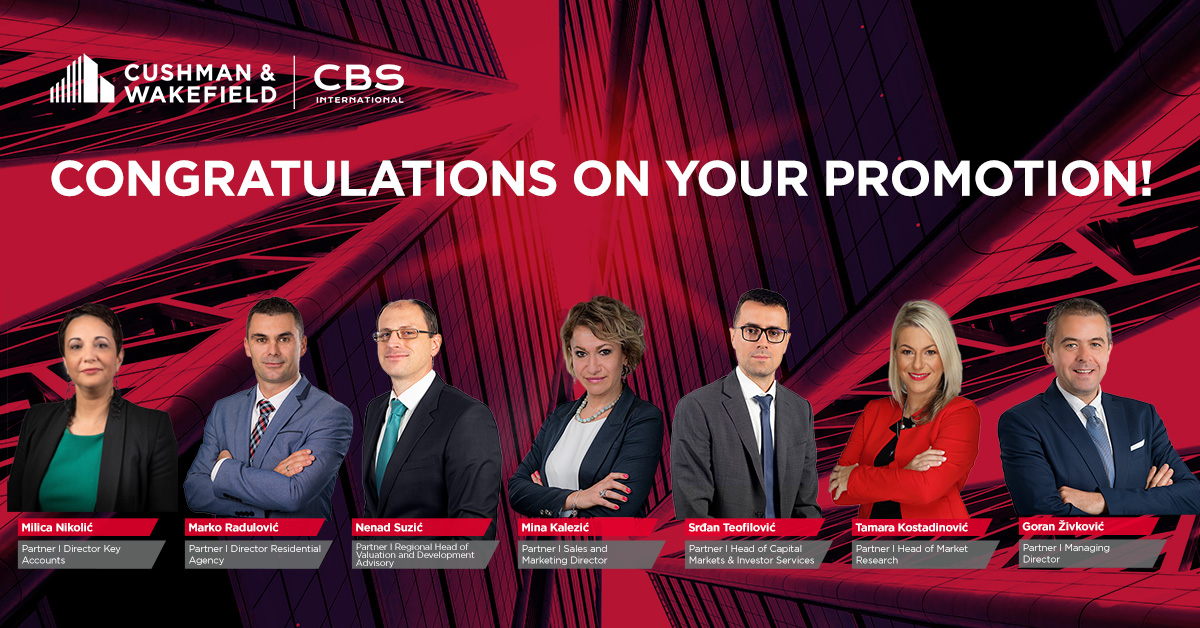 CBS International Announces New Partners in Serbia
CBS International, part of Cushman & Wakefield Group, promoted seven team members to partners – Milica Nikolić, Marko Radulović, Nenad Suzić, Mina Kalezić, Srđan Teofilović, Tamara Kostadinović and Goran Živković, who are part of the company almost since its establishment.
"I was lucky enough to meet really special people who, with their honesty in the first place, and then with their knowledge and hard work, made us an absolute leader in our line of work and constant in everything that is valuable to us. We managed to be the right partner at the right time to many companies, investors, banks and individual clients, as well as to contribute to their success. Having worked with Milica, Marko and Nenad since 2007, Mina, Srđan and Tamara since 2008 and Goran since 2009, the least I can say is that I know their true nature, so I proudly announce that they are becoming Partners in CBS International" said Dragan Radulović, CEO of CBS Group.
Milica Nikolić, Key Accounts Director, has for many years been the main partner to numerous international and domestic companies in finding the right office space and being an exceptional expert in this field, she continues to be the first choice of the clients when it comes to their office space.
Marko Radulović, Residential Agency Director, being an expert in the rental market is often a key player when foreign nationals, employees of representative offices or foreign companies, find their homes in Serbia. For this reason, work is often much more to him, since he is a part of the private lives and decisions of his clients.
Furthermore, Nenad Suzić, as Head of Valuation and Development Advisory, makes an outstanding contribution with his expertise and many years of experience, since professional and objective appraisal is one of the first steps of any type of real estate transaction. Over 20 years of career and participation in more than 7,500 valuation instructions, prove that Nenad is recognized as one of the best evaluators on the market.
CBS International, one might say, was the first to introduce the service of exclusive representation in the Serbian residential real estate market, which includes a wide palette of services from consulting to a successful realization, and Mina Kalezić has been an impeccable leader of the sales and marketing sector in this domain for many years. She is exceptional in knowing both buyers and the residential market, so it is no surprise that she is the investors' first choice for doing business. Mina sometimes takes her work very personally and emotionally, since she is a part of such an important life decision when clients choose to buy their future home.
Srđan Teofilović, as Head of Capital Markets and Investment Services, is someone whose knowledge and experience you want when it comes to large-scale investments. Srđan is an excellent expert in his field and was an important participant in some of the biggest investment transactions in the region.
Tamara Kostadinović has been the Head of the Market Research sector for many years and is someone who certainly knows best all segments of the real estate market in the region, and the reports she makes with her team are an invaluable tool for investors before making a decision about starting a project and represent the basis for its successful realization.
Goran Živković, CBS International Managing Director, has been achieving impeccable business results for many years. Goran is involved in all the largest projects and works with the most important clients of the company. In his over 20-year-long career in all segments of the real estate market, during which each year was more successful than the previous, Goran is crucial for the company's expansion, and business development and for the broadening of the range of services in Serbia and the region.