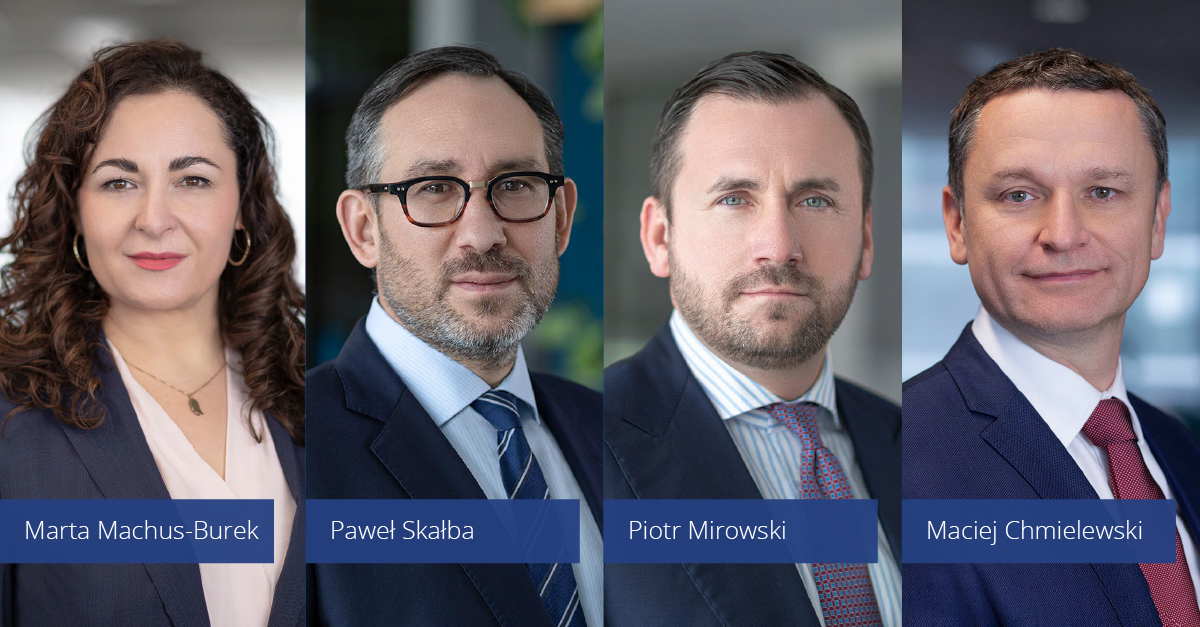 Changes to the Management Board of Colliers in Poland
After Monika Rajska-Wolińska's promotion to CEO for the CEE region, Colliers announced the appointment of new members to the company's Management Board in Poland. Joining the board are Marta Machus-Burek (Vice-President of the Management Board, responsible for the Corporate Development Strategy), Paweł Skałba (Board Member, responsible for Sales and Client Relations), Piotr Mirowski (Board Member, responsible for Landlord Advisory Strategy) and Maciej Chmielewski (Board Member, responsible for Tenant Advisory Strategy). Thus, they will support the President of the Management Board – Monika Rajska-Wolińska in implementing Colliers strategy in Poland in the designated areas.
Marta Machus-Burek, Paweł Skałba, Piotr Mirowski and Maciej Chmielewski are the leading experts on the commercial real estate market in Poland, who for many years have been supporting Colliers activities as Equity Partners. Thanks to their extensive experience, professionalism, strategic approach to business, as well as broad management competencies and skills, together with other 3 Senior Partners and 6 Partners in the company, they have contributed to a significant development of Colliers on the Polish market, where the company currently has 7 offices with over 300 employees.
Marta Machus-Burek, Senior Partner, Director of Retail Agency and Retail Advisory Services has many years of experience, including strategic advisory for shopping centre and mixed-use project owners and investors, shopping centre value management, leasing of space and marketing of retail facilities. She specializes in repositioning and creating optimal market strategies for commercial real estate. The wide range of clients she has advised includes Invesco, Carrefour Polska, Credit Suisse, INGKA Centres Polska, Capital Park, Atrium, Ceetrus or Medicover. Moreover, Marta provides strategic advisory for retail chains in CEE including development and optimisation strategies, competitive positioning analyses, and advisory on investments in retail chains.
Paweł Skałba, Senior Partner, Director of Office Agency is an expert on the Warsaw office market with nearly 25 years of experience in the real estate sector, which he has gained since the very beginning of the office market in Poland. Paweł is actively involved in office lease transactions, supporting the company's key clients. Only since 2010, he has completed over 300 lease transactions in excess of 500,000 sqm. In 2018, the nearly 50-person department led by Paweł received the title of the Office Agency of the Year in Poland for its business performance in the Eurobuild Awards industry competition. He has advised companies such as: Raiffeisen Bank Polska, Gas Transmission Operator Gaz System, Medicover, British Amercian Tobacco, Santander, Provident, CH Beck, USP Zdrowie, Genpact, Roche Polska and Samsung Electronics Polska.
Piotr Mirowski, Senior Partner, Head of Investment Services is responsible for the supervision, management and business growth of the capital markets team in Poland. His range of responsibilities includes strategic real estate advisory, origination, structuring and execution of property sale and acquisition transactions, participation in negotiations and transaction management. Piotr has advised numerous international and domestic investment funds, developers, REITs, insurance companies, private equity firms and family offices. As an expert in investment advisory, he has been instrumental in successful closings of transactions in all main real estate asset classes (both sell-side and buy-side) with a cumulative volume in excess of €8 billion.
Maciej Chmielewski, Senior Partner, Director of Industrial and Logistics Agency is an expert with over 20 years of experience in the warehouse market. At Colliers he manages a team of over 20 experts supporting tenants and landlords in lease and renegotiation processes, sale/purchase of warehouse and industrial space, as well as the acquisition of investment land. The department has been a leader in the Polish market for years and Maciej himself has advised on selecting optimal locations and negotiated lease conditions of over 2,500,000 sqm of warehouse and industrial space for companies such as Allegro, 4F, Danone, L'Oréal, Firestone, Ideal Automotive and Garmin.