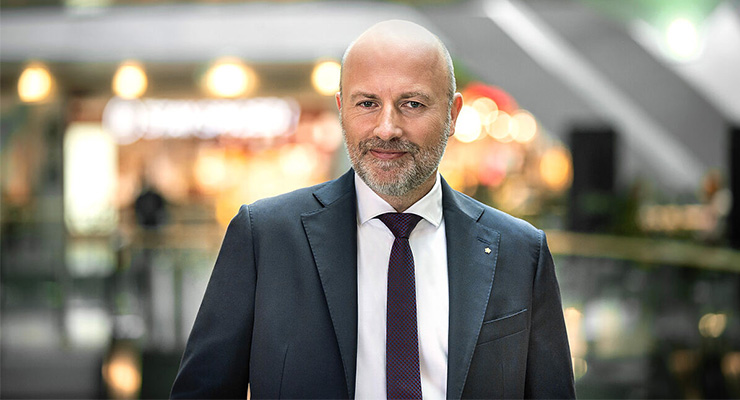 Christoph Andexlinger appointed CEO at SES
As of January 1, 2023, the Austrian SPAR Group will reorganize the management of its international shopping centre division SES: The current COO Christoph Andexlinger will take over as CEO. He will be assisted by Johannes Köth and Alexander Eck, who have been newly appointed to the management board. All positions will thus be filled internally with long-standing managers. The previous Chairman, Johann Felser, will retire at the end of 2022.
Christoph Andexlinger, a native of Tyrol, studied commercial science at the Vienna University of Economics and has been working for the SPAR Group since 1998, thus possessing around 25 years of experience in the shopping centre industry. Andexlinger initially started as Head of Marketing at the shopping centre EUROPARK Salzburg and took over the function of Center Manager there after two years. From the foundation of SES in 2007 until 2020, he has been responsible for the operational management of 30 shopping destinations in six European countries as Head of Center Management at SES. In 2021, Andexlinger was appointed to the SES management board as Chief Operations Officer.
In addition to his overall responsibility for the company, he is specifically responsible for the areas of architecture, centre and facility management, marketing, human resources, public relations, IT and business process management.
Alexander Eck has been with the SPAR Group as a retail and real estate specialist since 2000. The Styrian initially worked as Head of the leasing department and from 2001 took over the management of the entire expansion and project development in the group. In 2007, he moved to SES Spar European Shopping Centers, where he was initially responsible for shaping the sector and tenant mix of the shopping centres in Austria, Italy and Central and Eastern Europe until he took over responsibility for international real estate development in 2011.
As of January 1, 2023, he will join the Management Board of SES as Chief Development Officer (CDO), where he will be responsible for Real Estate Development and Construction.
Johannes Köth studied business administration and law in Salzburg and Innsbruck and began his career in the SPAR Group in 2004 as a Leasing Manager in the area of expansion and project development. In 2007, he moved to SES as Leasing Manager and took over as Head of Asset Management in 2011. In 2017, he was additionally assigned the function of Country Manager for Slovenia and Croatia. In 2021, he was appointed to the Management Board of SES as Chief Investment Officer.
As of January 1, 2023, he will now assume the position of Chief Financial Officer (CFO) on the SES Management Board and will thus be responsible for the areas of Controlling, Property Administration and Legal Issues in addition to his previous management areas of Leasing and Asset Management.