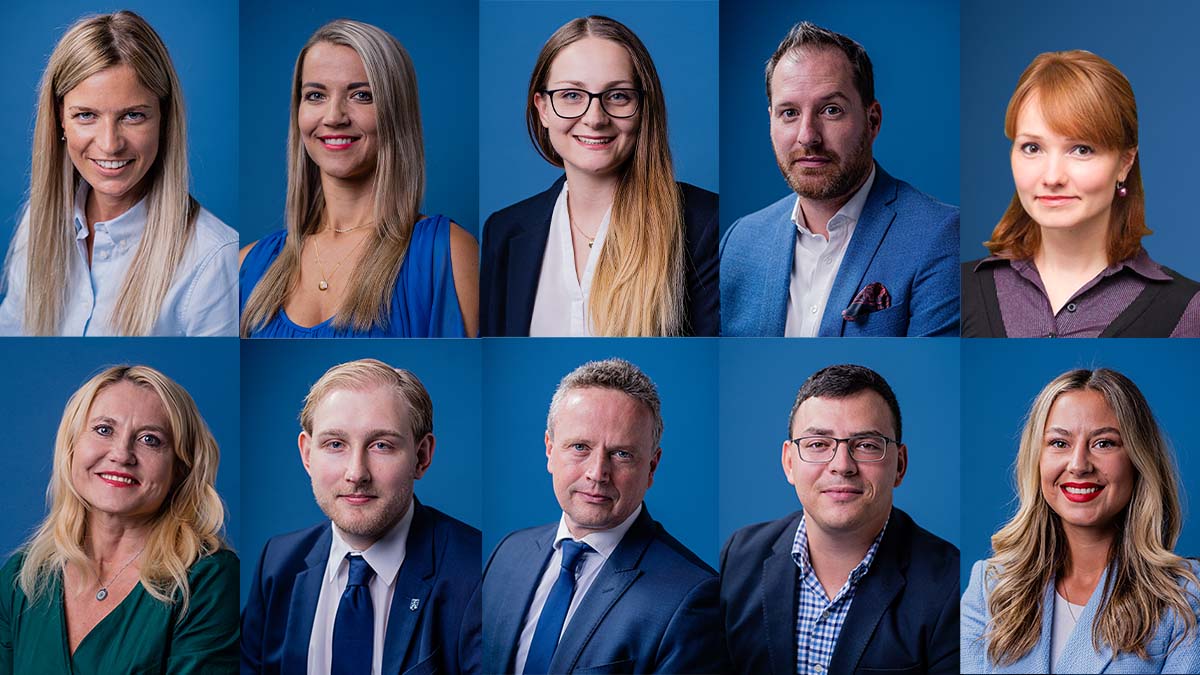 Colliers strengthens five of its business lines
Colliers Czech Republic has announced five new appointments in the Office Agency, two in Valuations and one respectively in Real Estate Management Services (REMS), Capital Markets and Market Research departments, as the company further continues its strategic growth plan to strengthen its business across all real estate segments in the Czech Republic to cope with the clients and market needs.
Office Agency
Colliers Office Agency has focused on strengthening its team, growing both its Landlord as well as Tenant Representation teams. The Office Agency has welcomed five new members over the past few weeks – Veronika Mrázková and Jakub Květ, joining as Senior Associates; Nikola Šašková and Jana Jimenez joining as Associates and Marek Nebeský joining as the Office Agency Assistant.
Veronika Mrázková is bringing rich expertise in commercial real estate gained over the past two decades working in various senior positions on the Czech market. She has been Head of the Commercial Agency in Ruby Real for over nine years and before that, she worked as Commercial Director in Centers and was also a Senior Consultant in various other real estate companies including Professionals. Veronika will be part of the Colliers Landlord Representation & Brokerage team.
Jakub Květ, who will be focused on Landlord Representation, has previously worked for over seven years as Leasing Agent in Patoma Holding, a Prague based company specializing in commercial properties where he gained in-depth knowledge and experience of the office market and developed many strong relationships with tenants and developers alike. Prior to his last role, Jakub worked as Project Assistant at the Centre for Social Services in Prague. Jakub also worked for companies such as Peugeot or Danone.
Nikola Šašková has been living between Prague and Spain where she gained six years of experience in various service-oriented and managerial positions mainly dealing with clients. Nikola being multilingual and experienced in the services segment will be a great value add to Colliers Office Agency team, where she will focus on working closely with our clients to promote and lease their properties.
Jana Jimenez graduated from the University College of Business in Prague and before joining Colliers, she worked several years in Czech airlines, as well as for Jet Investment. Speaking multiple languages and dealing with clients of different nationalities, Jana will be also a great addition to our Office Agency team.
Nikola and Jana will be actively part of both our Landlord as well the Tenant Representation teams.
Marek Nebeský joined Colliers as Office Agency Assistant in June. Before his role, Marek passed a Marketing internship in Braathe Enterprises and worked as a Marketing Assistant in Lagardére Duty-Free on the Václav Havel Airport in Prague.
Capital Markets
Mark Richardson has recently joined the Colliers Capital Markets team in Prague, leaving his position as Director of the Colliers Investment team in Warsaw, Poland, where he spent a year and a half working before joining forces with the Czech team comprising Andrew Thompson, Tomas Szilagyi and Konstantin Cordery.
Mark is very familiar with both the Czech Republic and CEE Real Estate Investment markets and has over 21 years of experience working in the real estate industry. Prior to joining Colliers in Poland, he was  Director at Pradera, a specialist retail Investment Manager, where he established the company's offices and retail asset management platforms in both Poland and the Czech Republic and was responsible for the pan-European acquisitions.
Valuation Services
Colliers' Valuation Services is also strengthening its team by two additional new members, Viktor Sochor – Valuation Analyst who joined in April and has brought 4 years of professional experience which he gained as an Associate at TPA Valuation & Advisory and also as a Senior Financial Auditor at Johnson & Johnson in the Czech Republic and Switzerland, as well as Michaela Křikavová who is returning from maternity.
During Viktor's time in TPA Valuation & Advisory Viktor was mainly responsible for valuation methodology implementation, revision of expert opinions and performing other tasks related to business and property valuation. At Johnson & Johnson Viktor worked as a Senior Financial Auditor, being responsible for the execution of the internal audit financial program. His responsibilities involved audit planning and coordination, risk assessment, identification of testing failures/gaps and guiding business stakeholders. During his time at Johnson & Johnson Viktor also spent 1 year in Switzerland where he conducted various audit assignments, supervised 2 audit teams and provided new hires training.
Michaela Křikavová, MRICS, is re-joining Colliers Valuations Services as Valuation Associate returning from her maternity leave in October this year. She joined Colliers in May 2007 as a Junior Valuer and before her maternity leave, she took part in the valuation of assets across all sectors, for a wide range of national and international clients of Colliers, including developers, funds and lending institutions, such as Eurohypo, Unicredit and Česká Sporitelna. Michaela graduated from Reading University in the UK with an MSc in Real Estate. Prior to Colliers, she worked in a Czech subsidiary of a US company Future Product Design.
Market Research
Josefína Kurfürstová has been appointed as Colliers Research Analyst in May. She is a MA graduate at the University of St Andrews in Scotland and of the Institut d'études politiques de Paris in France. Josefina worked as Sustainability Consultant in CMA CGM in Paris, as M&A Analyst in BNP Paribas in Prague, and later as Project Manager and Local Coordinator of AGORA in Prague 9 District Office, and undertook numerous internships as an Analyst and Market Researcher, eg in Czech Radio. Josefina is another great asset to Colliers' Research team, allowing us to continue to provide first-class and up to date research and market reports, various trends analysis and on-demand reports.
REMS
Petra Drábečková is one of our most recent recruits to the REMS team who joined us in May. Petra previously worked as a Property Manager at Q property where she was responsible for managing a property portfolio of office buildings and residential properties across the Czech Republic. Prior to joining Q property, she worked as an Asset Manager at Discovery Group. Petra studied at the University of Business in Prague.
"Over the past three years, we have been focusing on transforming and adapting ourselves to today's market needs including strengthening our platform, setting up new service lines and attracting the best available talents on the market. Covid-19 took everyone by surprise which slowed down business in general, nevertheless, it didn't prevent us nor stop us from moving ahead. The recent recruits are part of our plan how we become better and more efficient and most importantly be closer to our clients and where the business needs us. It is great to see, how Colliers became one of the major talent recruiters in RE over the past few years in the Czech Republic. Despite the pandemic, our business has been continuously growing, which is a reflection of our clients' trust in us and most importantly in our people." commented Tewfik Sabongui, Managing Partner of Colliers Czech Republic.