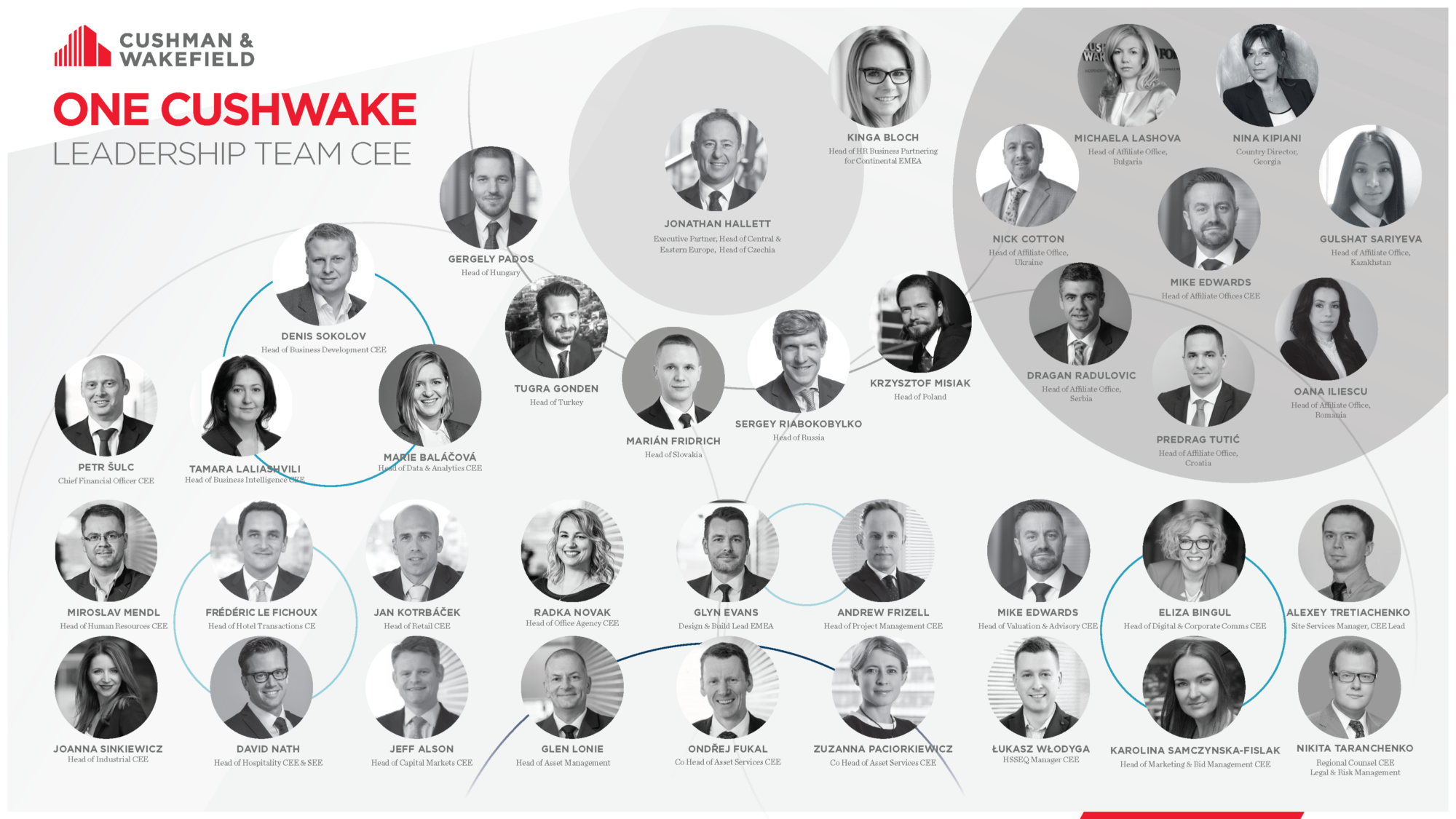 Cushman & Wakefield announces new Central & Eastern Europe structure
Real estate services firm Cushman & Wakefield has announced new appointments to its enhanced Central & Eastern Europe (CEE) leadership team.
The new structure provides the firm's clients, many of which view CEE as a whole, with the best platform to support requirements across the region, while complementing and coordinating activity at a country level in Central Europe as well as Russia and Turkey.
It will also ensure Cushman & Wakefield's CEE businesses are aligned to capitalize on the increasingly global nature of client requirements and opportunities.
The new CEE service line leaders, drawn from across the firm's regional footprint, will be responsible for coordinating activity across different countries and departments, are:
Zuzana Paciorkiewicz – Co-Head of Asset Services, CEE
Ondrej Fukal – Co-Head of Asset Services, CEE
Tamara Laliashvili – Head of Business Intelligence, CEE
Joanna Sinkiewicz – Head of Industrial Agency, CEE
Marie Balacova – Head of Data & Analytics, CEE
Radka Novak – Head of Office Agency, CEE
Eliza Bingul – Head of Digital & Corporate Communications, CEE
Karolina Samczynska-Fislak – Head of Marketing & Bid Management, CEE
Cushman & Wakefield's CEE region is led by Jonathan Hallett, Head of Central & Eastern Europe. The new members of the leadership team will have oversight of the CEE region in their respective areas of expertise. They will be responsible for responding to clients' evolving needs and driving change in key, strategic fields, including data strategy and communications.
Jonathan Hallett, Head of Central & Eastern Europe at Cushman & Wakefield, said: "I am delighted to welcome these eight accomplished individuals to their new CEE Leadership roles. They make a positive and significant contribution to the overall diversity of our regional team in terms of gender, geography, cultural background, experience and skills. Diversity leads to innovation and higher client satisfaction. Empowering people is in our culture and these appointments reflect inclusion within our business across the EMEA region."
Colin Wilson, Chief Executive, EMEA, Cushman & Wakefield, said: "Central & Eastern Europe is an important region within our EMEA business and it's vital we have the right leaders in place to continue our momentum and anticipate and address our clients' needs. All the new CEE leaders are action-oriented and have an entrepreneurial spirit, which is critical in our ever-changing industry. I congratulate them all on their expanded roles."
The newly appointed CEE service line heads will join current CEE service line heads, who include:
Jeff Alson, Head of Capital Markets CEE
Glen Lonie, Head of Asset Management
Jan Kotrbacek, Head of Retail CEE
Andrew Frizell, Head of Project Management CEE
Glyn Evans, Design & Build Lead EMEA
Frederic Le Fichoux, Head of Hotel Transactions, Continental Europe
David Nath, Head of Hospitality CEE & SEE
Denis Sokolov, Head of Business Development CEE
Mike Edwards, Head of Valuations & Advisory CEE
Petr Sulc, Chief Financial Officer CEE
Miroslav Mendl, Head of Human Resources CEE
Alexey Tretiachenko, Site Services Manager, CEE Lead
Nikita Taranchenko, Legal & Risk Management, Regional Counsel CEE
Łukasz Włodyga, HSSEQ Manager, CEE.