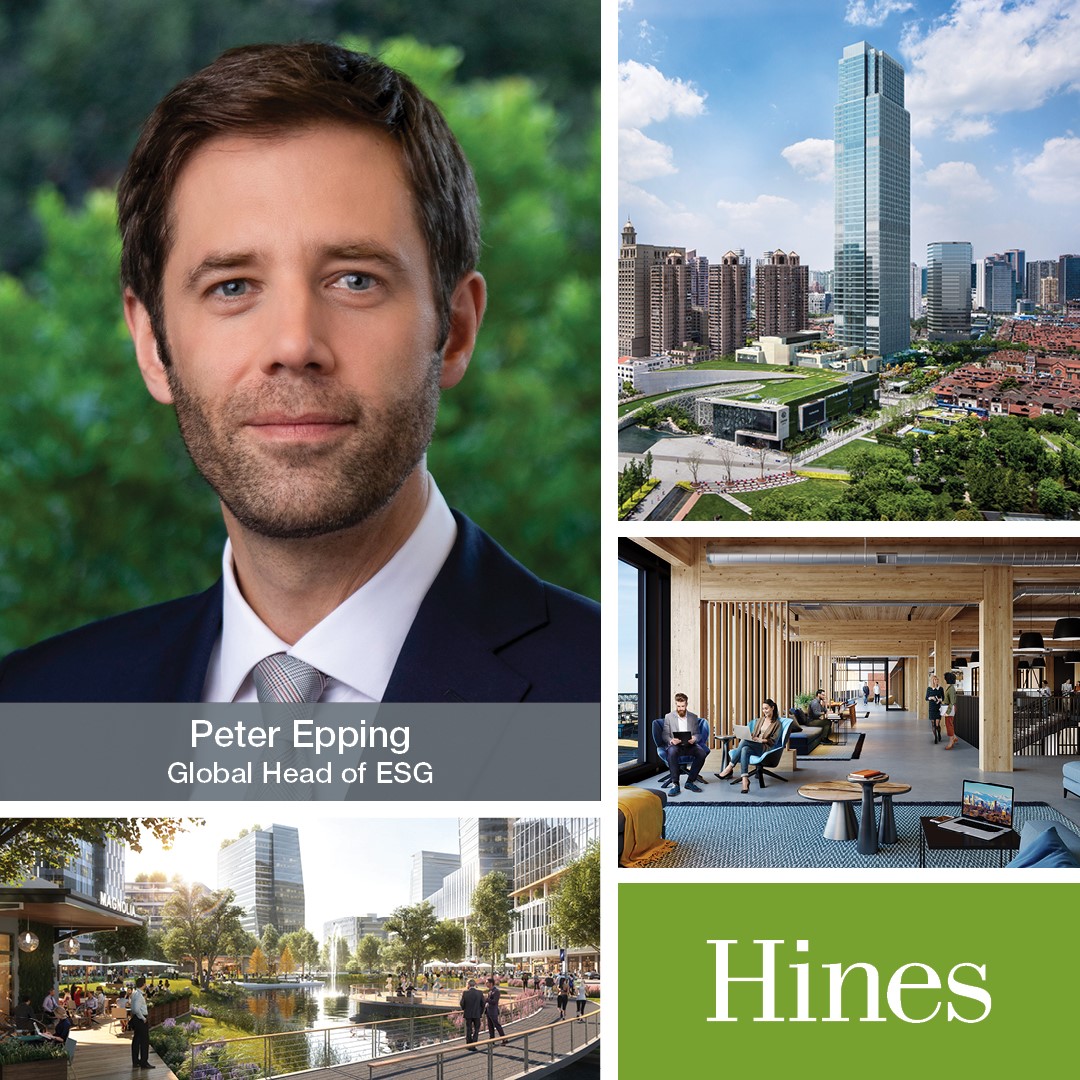 Hines European Core Fund Leader Appoints Global Head of ESG
Hines, the international real estate firm, has unveiled an ambitious new ESG strategy to elevate its commitments to environmental, social and governance issues, with a particular focus on the climate emergency, by accelerating its efforts to lead the industry in the decarbonization of the built environment. The strategy underscores that the firm's work should benefit both planet and people and that making a positive impact in the communities Hines serves is an important part of its mission.
Investors, occupiers and increasingly, communities, are asking the commercial real estate industry to do far more than it ever has. To meet those challenges, Hines is leveraging its global scale and abilities as an integrated investor, developer and operator to inform its perspective on how to solve complex issues facing the industry, while positively shaping the built environment.
To lead the firm's strategies, Hines has appointed Senior Managing Director Peter Epping as Global Head of ESG. For the past eight years, Epping served as a fund manager for Hines' European Core Fund (HECF). He was instrumental in HECF being recognized by GRESB as the most sustainable fund in Europe of all diversified portfolios and as a GRESB Global Sector Leader for an unprecedented four years in a row, with the most recent being 2020. In addition, HECF recently won the inaugural Pension Real Estate Association (PREA) Real Estate Investment Management ESG award in the open-end fund category, beating all 59 competing funds.
In addition to Epping, the firm established a dedicated new global ESG team to lead its focus on furthering ESG commitments across Hines' investments, properties, communities and stakeholders. A new Hines ESG Leadership Council also includes Global Head of Management Services Adil Noorani; Chief People Officer Steph Biernbaum; Chief Legal Officer Richard Heaton and Global Sustainability Officer Clayton Ulrich. This council will work holistically to drive innovation and positive change including new initiatives focused on addressing carbon emissions and social equity across the built environment.
Hines' commitment to delivering future-proofed, sustainable, buildings has been deeply rooted in the firm since Gerald D. Hines founded the firm more than six decades ago. Today, Hines believes investors and developers must approach post-pandemic opportunities by creating more livable environments and contributing to better life experiences through new standards of flexibility in workplaces, homes and communities of the future.
"We all have a part to play in one of the largest challenges of our collective life as we strive to create a healthier, inclusive and more sustainable planet," said Hines Chairman and Chief Executive Officer Jeffrey Hines. "Our long-term vision is to continue leading the industry by further embedding ESG excellence across the company—from our people, through our investments, construction, management and engineering around the globe."