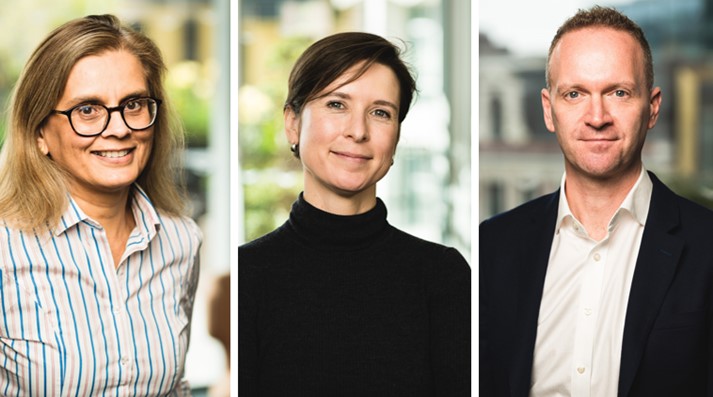 Kajima Europe announces new board members
Kajima, the pan-European real assets business, has announced senior promotions at its London head office.
Anuja Kaira is promoted to Finance Director at Kajima Properties (Europe) Ltd. and Kajima Student Housing Ltd., succeeding Nigel Chism. She previously held the title of Senior Financial Controller, focusing on commercial property.
Christine Philips is promoted to the board of Kajima Partnerships Ltd. as Deputy Finance Director. She has worked at Kajima for over three years and previously worked at John Laing.
Tim James is also appointed Investment Director to the Kajima Properties (Europe) Ltd. board. He joined Kajima in 2021 from Longmead Capital, bringing over 15 years of experience in commercial property to grow Kajima's London office portfolio.
In Europe, Kajima acts as an investor, developer and asset manager across a range of markets, working with both the private sector, through its Properties business and the public sector, through its Partnerships business. It also provides booking solutions for public sector assets, including schools, hospitals and local authorities.
Kajima Properties' expanding European portfolio consists of a range of real estate developments across key sites in Poland, Germany, France, Spain and the Netherlands. Kajima is Poland's most prominent student housing developer, owner and operator and has developed over 1.4 million sqm of European logistics assets to date. In the UK, the Partnerships business manages 55 operational facilities (£1bn) across multiple sectors including education, health/care, extra care and workspace.
The announcement follows a series of new senior hires earlier this year that bolstered its logistics and development teams. The promotions reflect Kajima's ambitious growth plans and strategic expansion of its portfolio with £10 billion assets under management.
John Harcourt, Managing Director at Kajima Properties (Europe), commented: "As we continue to strategically expand our real estate businesses in the UK and Europe, we are excited to welcome Anuja and Tim to the board of our European Properties business alongside Christine to the board of our Partnerships business. These new appointments to our board positively reflect the diversity of backgrounds, demographics and skills across business, especially throughout the last several years of expansion."