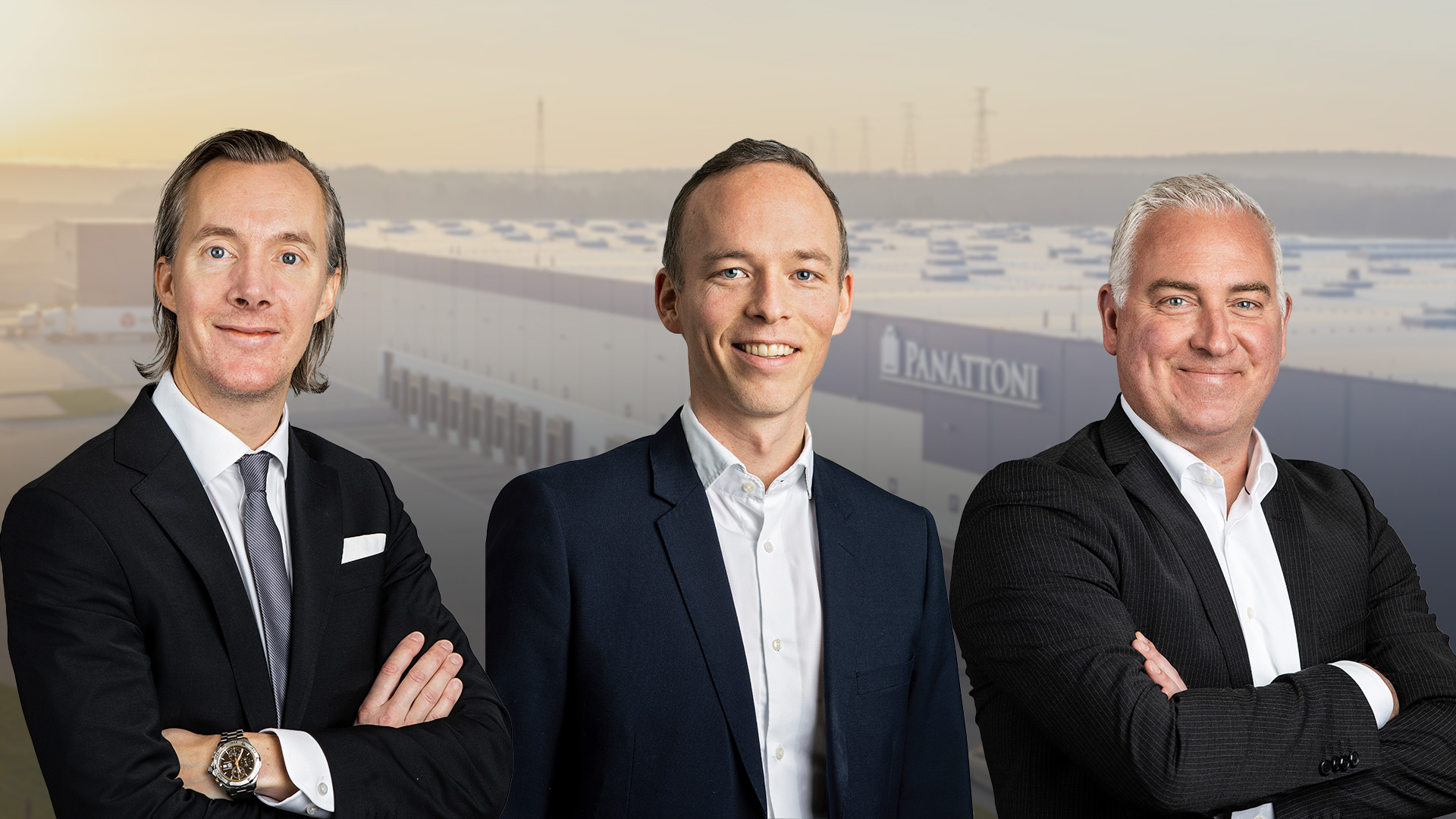 Panattoni enters the Scandinavian market
European industrial real estate market leader Panattoni enters Scandinavia and establishes a Swedish subsidiary in Gothenburg. It is headed by Fredrik Jagersjö Rosell and assisted by Daniel Andersson and Patrik Lööv-Wallin.
Panattoni's Scandinavian offensive. Panattoni is a globally recognized developer of a high-quality, modern industrial and warehouse space. It has topped the rankings of the largest developers for the last 5 years with active operations in 13 countries. Now it is entering Scandinavia. In December, it opened a Panattoni office in Gothenburg. It is the second-largest city in Sweden and the fifth-largest in the Nordic countries. It is also the largest logistics real estate market in Sweden.
"We want to be where our customers are, to provide them with access to first-class warehouse and production space. According to the newest data, Sweden is ranked the third-best industrial and logistics investment market in Europe, with an investment's value of about two billion euros in the first half of 2021 (just after the UK and Germany). The Gothenburg region itself is the gateway to the Nordic countries as it has a strategic location between Stockholm, Oslo, and Copenhagen. This is facilitated by the largest international seaport in the Nordic countries, which provides access to most of the world. More than 30 percent of Scandinavian and 60 percent of Swedish container traffic passes through this port. On top of this, there is a strong e-commerce growth trend in Sweden. All this makes Gothenburg an extremely attractive location for our new office," explains Robert Dobrzycki, CEO Panattoni. This is confirmed by JLL data. While in 2020 nearly 570,000 sqm was delivered in Sweden, in 2021 nearly 920,000 sqm will already hit the market, and in 2022 – 1,4 million sqm.
The high demand for logistics and industrial real estate in Sweden is due to the rapid growth of e-commerce. "Almost 97 percent of the population here has access to the Internet, 86 percent of whom shop online, which puts the Swedes among the leading countries in this respect. For more than a decade, Swedish e-commerce has been growing steadily by several percent, but in 2020 it shot up by 40 percent. According to JLL forecasts, e-commerce turnover will increase by 70 percent between 2021 and 2025. It is worth noting here, that e-commerce in Sweden is so widespread, thanks to the tradition of mail order and strong retail brands," explains Fredrik Jagersjö Rosell, who in December took the position of Managing Director at Panattoni's Swedish branch. He will be responsible for developing Panattoni's projects in Sweden, both in speculative and BTS form, with a particular focus on the e-commerce market.
Fredrik Jagersjö Rosell has 11 years of experience in the industrial and logistics real estate market in Sweden. For the last four years, he has worked in the business development department, at­ Logistic Contractor. It is one of the largest industrial and warehouse developers in the Nordic countries, delivering approximately 200,000 sqm of modern space every year. From December 2019 – already as Head of Development – he managed a team of specialists responsible for acquiring new clients, land acquisition, and investment sales. In 2020, the total value of properties sold by his department amounted to around 190 million euros.
Before joining Logistic Contractor, Fredrik was a real estate consultant for seven years at such renowned companies as Colliers and JLL. At the latter, he was responsible for the Industrial and Logistics Leasing team in Sweden.
Daniel Andersson and Patrik Lööv-Wallin have also joined Panattoni's first Swedish team. Daniel has taken up the position of Head of Structured Finance and Operations. Previously, he spent 5 years as CFO in companies focusing on condominium projects. He started his career in banking, working for 9 years for Handelsbanken in Sweden and Singapore. His background is in economics – he studied at the Faculty of International Economics at Skövde University.
Patrik has been involved in consulting, leasing, and sales of logistics and industrial properties for 15 years. For the last 8 years, he has worked as Development Manager at Logistic Contractor, where he was involved in 18 projects with a total area of 450,000 sqm. Before that, he was a real estate advisor at CBRE Sweden. He holds a master's degree in logistics and transport management. He also spent a year at the Cracow University of Economics, studying economics and management.