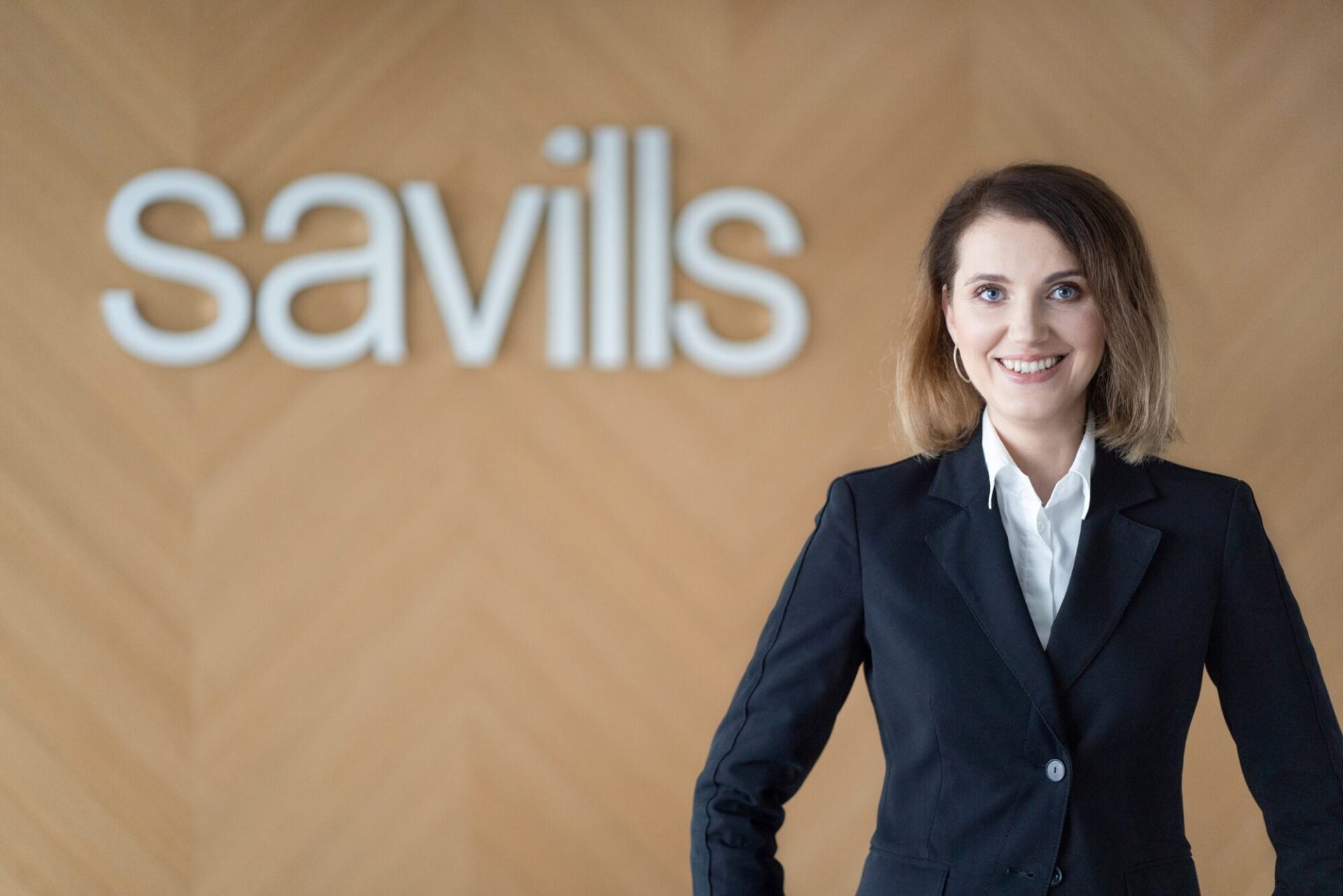 savills hires sustainability lead in poland
In line with its global strategy, real estate advisory firm Savills continues to strengthen its ESG capabilities and expand its offer for clients in relation to environmental and social aspects of the property market. To this end, it has appointed Katarzyna Chwalbińska-Kusek to the new position of ESG & Sustainability Lead in Poland.
Katarzyna Chwalbińska-Kusek has joined Savills as Associate Director. She has been actively promoting sustainable construction principles for 15 years. Katarzyna has spent much of her career with an international leader in engineering consultancy for the built environment where she was responsible for business development and marketing in Europe. During that time, she co-created the concept of a healthy office that was the first in Poland to have received a WELL Building Standard Gold certificate and developed one of the first strategies on the Russian market based on the Global Reporting Initiative (GRI) standard. In 2016-2019, she was an Executive Committee Member of the Urban Land Institute in Poland. Katarzyna has also worked with the World Business Council for Sustainable Development (WBCSD) and the European Climate Foundation (ECF). She is highly skilled in Polish and international non-financial reporting methodologies and sustainable development goals included in the 2030 Agenda for Sustainable Development.
"ESG has been one of the most important trends in real estate for some time. Never before has it been so strongly underpinned by legislation and translated into such precise reporting requirements as today. This makes ESG not only a welcome addition to a business strategy but an absolute necessity. Savills has long been assisting clients in implementing responsible sustainable development policies in many countries. And as we also want to set a direction of travel in this area in Poland, we have created a dedicated ESG position as one of the first real estate advisers on our market by taking a very comprehensive approach to the matter," says Tomasz Buras, CEO, Savills Poland.
Katarzyna Chwalbińska-Kusek will be responsible for developing ESG strategies and compliance in Savills Polish office and for delivering and implementing sustainable development solutions for the firm's clients. ESG (Environmental, Social, Governance) is not only about sustainability, but a range of criteria combining corporate social responsibility and governance against which companies and individual assets are classified today. Savills will, therefore, support real estate investors, developers, tenants and landlords by providing advisory on the three pillars of ESG.
"We help our clients to be ESG compliant throughout their real estate journey; from transaction to fit-out and the process of property management. We focus on energy efficiency and decarbonization, material use and circularity, and the social value of real estate assets.  We work with our clients to improve the well-being of people in offices. For existing assets, we advise on improvements to achieve compliance and increase both the financial and social value. We understand how to leverage green building certification to enhance the ESG strategy of a company. We create ESG business case for our clients," says Katarzyna Chwalbińska-Kusek, Associate Director, ESG & Sustainability Lead, Savills Poland.
Savills recognise the need for urgent action in addressing the climate crisis and rapidly transitioning to a greener, safer and more resilient economy. Savills UK committed to delivering net-zero carbon emissions by 2030 and created the "Savills Earth" Consultancy Group that bring together the expertise of more than 100 specialists to support and advise UK clients on their sustainability and carbon reduction strategies.